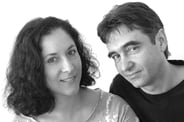 AllDayNight was created by Los Angeles based prize-winning musician/author/composers, Frederic Michot and Adriana Zoppo. Frederic and Adriana's musical influences are broad: classical music in general, but also English, American and European rock, pop and film music. This mix of different cultures and styles makes AllDayNight music very eclectic and original, as it ranges from Alternative rock, Adult Contemporary and instrumental to Relaxing music and Dreamwave.
Frederic Michot - Rawson
Composer, Author, Arranger
Main instrument : Synthesizer Programmer
other instruments : Drumset, Guitar, Bass, Piano
Prize Winning Music Composer, Prize Winning Songwriter
​ Frederic Michot composed and produced the song: "As de coeur" Lyrics by Violaine Dumoulin, Violin soloist Adriana Zoppo. Song used in the movie called "Grigris" selected to compete for the Palme D'OR at the prestigious 2013 Cannes Film Festival. Vulcan Award Winner. The song was used in a major scene of the movie. The movie, "Grigris", was released in the US in 2015.
Frederic Michot worked for many years as a Freelance Synthesizer music programmer for famous French singers and bands :
Isabelle Adjani, Bernard Lavilliers, Claude Nougaro, Catherine Lara, Patrick Juvet, Elysabeth Caumont, Amina, Enzo-Enzo, Marie Laforet, Isabelle Mayereau, Edith Lefel, Kassav and much more…
In the 90s, he became artistic and technical manager of "Paris Paris Studio" for an independent production company. He is then in charge of the Synclavier 9600 DTD full options. The biggest music computer system in Europe. Many music projects were produced, as well as commercials, with famous directors, such as Jean-Paul Goude and Jean-Baptiste Mondino.
Frederic Michot is also specialized in programming vintage synthesizers such as: Fairlight IIX, Fairlight series III, Moog, Prophet, Oberheim, Yamaha, Roland, Korg, etc.
Frederic Michot won the FNAC Record Company Songwriting Competition (France). For the two songs: « Il faut parler d'amour » and « Le plus grand des funambules »
He also composed the music score for a short film called: « Les Vagabonds », and won the only Prize for Best Original Music Score given at the International "Sens Short Film Festival" (France.)
Frederic Michot composed a concept album called: Mystery of Creation (mystere de la Creation) Endorsed by the famous grand couturier Pierre Cardin.
He produced, arranged and performed a collection of CDs for children distributed by Polygram and Universal Music. The collection won the "Collection d'or" (Golden Collection) award, and also produced and arranged in collaboration with Adriana Zoppo a collection of educational music CDs for children distributed by Warner Music.
In total, Frederic Michot's discography is more than twenty albums, short films music scores, documentary music, and more than one hundred pieces of music published and registred at the SACEM (France).
Since 2003, Frederic Michot lives in Los Angeles, and continues to compose and produce music in collaboration with Adriana Zoppo, under the name: "AllDayNight."
​ Adriana Zoppo and Frederic Michot also created a music label called: "ilymusic" to release their own music creations (www.ilymusic.com)
Adriana Zoppo
​ Musician, Composer
Main instrument: Violin
Other instruments : Viola, Viola d'Amore, Keyboards
Winner: Beverly Hills Auditions of the Consortium of Southern California Chamber Music Presenters.
Adriana Zoppo performs on violin, viola, baroque violin, baroque viola, and the unusual and rarely heard viola d'amore. She has played regularly with the Santa Barbara, New West, Pacific Symphonies and Long Beach Opera and Symphony, St. Matthew Chamber Orchestra, Musica Angelica Baroque Orchestra, Los Angeles Baroque Players, Bach Collegium San Diego and the Corona del Mar Baroque Festival and with many other symphonic and chamber groups in the Southern California area.
As Director of the Glendale Noon Concerts' early music sub-series Adriana plays in and coordinates chamber music concerts featuring music on original instruments.
​ She also plays for film, TV (American Idol, Mad Men etc.), video games, solo artist recordings, Broadway musicals (Lion King, American in Paris, Hamilton-L.A. premiere etc.), the Kingdom Hearts and Final Fantasy Symphonic concerts and live shows of all musical styles and genres.
Adriana has recorded or concertized with artists Stevie Wonder, Andrea Bocelli, James Brown, Page and Plant (Led Zeppelin) Ray Charles, Josh Grodin, Madonna, Ricky Martin, Johnny Mathis, Charlie Haden, Glenn Frey, Aretha Franklin, Diana Krall, Neil Young, Pat Benatar, Counting Crows, Garth Brooks, Carrie Underwood, Frank Ocean and many others at Capitol Records, the MGM, Warner Brothers, Paramount and Fox Studios, at the Schubert, Ahmanson, Pantages and Greek Theaters and the Hollywood Bowl, Dolby Theater, Music Center and Disney Hall in Los Angeles.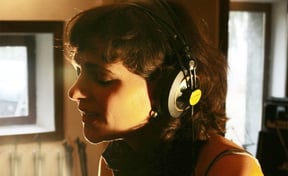 Constance Amelane
Singer, Lyricist, Actress, Dancer, Performer

Exposed to music from a young age, thanks to a music-loving mum, a singer in a choir, Constance discovered classical music and opera. After hearing Mozart's opera "The Magic Flute" at the age of five, she was inspired to imitate it.
Constance studied violin and voice at the Conservatory and already attracted by the stage, soon was performing in public. Her wide-ranging voice, from operatic soprano to rock, allows her to sing classical repertoire, musicals, theater and rock bands.
Concurrently with her singing activities, Constance joined the prestigious Cours Florent School (famous for having had in its ranks Isabelle Adjani, Diane Krueger, Mylene Farmer, Sophie Marceau ....), having always had the idea that an artist must be complete and master not only the art of singing but also comedy and dance. She graduated with honors with the personal congratulations of François Florent who said: "Constance does not come on stage, she just appears ..."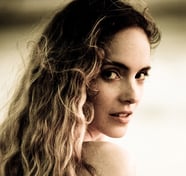 Laura Weissbecker began her film career in 2002, when director Tonie Marshall (winner of the 2000 Cesar French Academy Award for best film, best director and best screenwriter) offered her a small role opposite Francois Cluzet in her feature film ''France Boutique''.
In France, Weissbecker is best known for her role in ''Versailles, the Dream of a King'' directed by Thierry Binisti, a high profile TV movie which aired on France 2…
​ She shows her comedic talent starring opposite Jackie Chan in ''Chinese Zodiac 12,'' an international feature film directed by Chan. Laura Weissbecker was awarded ''Best New Global Actress'' at the Chinese Huading awards in Macao in October 2013 for her performance…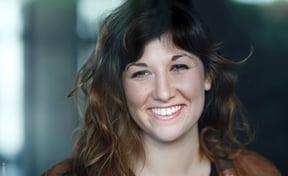 Violaine Dumoulin
Violaine Dumoulin is a French Artist (actress, singer and dancer ) who lives in Paris.
She trained at the Contemporary Dance Conservatory in Nantes, France, and then at the acting school in Paris (les ateliers du Sapajou).

In 2008 she joined Bordeaux's Matamalam theater company where she performed in France and other European countries for 7 years, most notably in " Que ta volonté soit fête," adapted from the memoir of Etty Hillesum. She also appeared in several short film, web series and television shows.

In 2011 she traveled in the USA where she met the luminaries, Nicki Flaks (acting coach) ,Scott Williams (director), Jodi Rothfield (casting director ) and Frederic Michot (musician,composer)

In 2012 she partnered with Frederic in a musical collaboration. Their first song 'As de Coeur" was featured by the director Haroun Mahamat Saleh for his 2013 "Golden Palm" nominated film GRISGRIS (at the prestigious Cannes Festival). And together, Violaine and Frederic recorded in L.A « Rendez vous a Paris » Violaine's first album...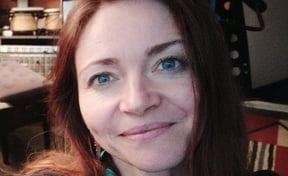 Nadège Billery, singer, dancer, composer
Nadège Billery, artist without borders, offers to all those absorbed by the daily agitation to find tranquility, inspiration and joy through a unique and universal musical experience, because for her nothing is more important than to feel free and even.
Born of a formation that draws its inspiration from the nomadic and traditional dances of Orient and gypsies of Russia and a training in operatic singing and current music, she is also a storyteller and polyglot singer in the Quartet Variations. Co-written with saxophonist David Rousselet their show Gioa (Joy) - generator of emotions and promotes living together. Author and composer of 2 EP electro pop, she lends her voice on various projects (alvbum of French songs artist, animation film music ...)
She has been a dancer and choreographer for several years, notably for the company Kahina Dance, known for her Kabyle and Berber dances and her humanitarian activity with the association "D'une geste nève l'espoir".
The years of rewarding and initiatic research from all horizons lead her today to propose a rich, generous and inspiring hybrid song and dance, where art has no barriers. She teaches singing and various dances of the world and is currently involved in projects "singing, body and voice" including medical and psychological center.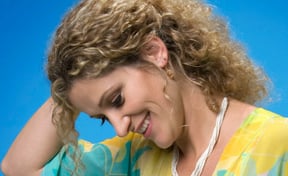 Karolina Naziemiec- viola
KaroliNa- jazz vocal
Karolina Naziemiec is a Polish violist and jazz vocalist known as KaroliNa, who has been performing and teaching in the United States since 2001. She is a recipient of an artistic visa on the recommendation of the American Federation of Musicians, who cited her as being "a violist of extraordinary ability." Ms. Naziemiec came to the United States for the first time in 2000 at the invitation of The Idyllwild Arts Summer Festival Orchestra in California, for which she twice served as principal violist.
Ms. Naziemiec—the daughter of engineers and amateur musicians—grew up surrounded by music to become the first professional musician in her family. Born in Jedrzejow, Poland, she attended the Szymanowski Music High school in Katowice, then continued her education at the Chopin Academy of Music in Warsaw, where she studied with Professor M. Marczyk, viola soloist with the National Philharmonic in Warsaw. She received her Master's Degree in Music Arts/Viola Performance from the Chopin Academy in 2000. Her master's thesis "Two Faces of Bela Bartok's Concerto for Viola" — a musical analysis of the differences between two versions of Bartok's viola concerto — was published by the Hungarian Institute in Warsaw the same year. Ms. Naziemiec launched her performing career by touring France and Belgium with the Chopin Academy's Chamber Orchestra. She also toured Japan with the Chopin's Ladies Strings Orchestra. She received scholarships to attend the International Music Course in Marktoberdorf, Germany; the Verbier Festival and Academy in Switzerland; the International Youth Orchestra's Spring Festival in Germany; and the Aberdeen International Youth Festival in Scotland, where she was a student of Michael Beeston (member of the Edinburgh Quartet) and reached semi-finals at the International Instrumental Competition. She has also received awards and artistic support from The Leni Fe Bland Foundation, The Gorecki Foundation, The Maestro Foundation, the city of Sosnowiec (The Extraordinary Award for Talented and Promising People), and twice from the Foundation of Culture and Art in Warsaw. Ms. Naziemiec continued her training by participating in master classes with Yo-Yo Ma, Karen Tuttle, Donald McInnes, Masao Kawasaki, John Waltz, Edith Orloff, and receiving private instruction with Marek Marczyk, Dariusz Korcz, Kurt Lewin, Jerzy Kosmala, Roberto Diaz, Paul Neubauer, Doris Lederer, Carole Mukogawa, Jeffrey Irvine, James Dunham, Ralph Fielding, and Victoria Miskolczy. She has worked with some of the most distinguished composers and musicians in the world: John Williams, Jan A.P. Kaczmarek, Jorge Calandrelli, Randy Newman, Alf Clausen, Kent Nagano, James Conlon, Gunther Schuller, Arturo Sandoval, Joshua Bell, Gil Shaham, James Newton-Howard, Patrick Williams, Andy Williams, Sue Raney, Bonnie Raitt, Diana Krall, Carmen Bradford, John Corigliano, Randy Newman, Sergio Commissiona, Jerzy Maksymiuk, Jacek Kaspszyk, Larry Livingston, Carl St.Clair, David Zinman, Noreen Green, Burt Bacharach, and Hal David. She was granted a full scholarship at the University of Southern California, where she attended the Advanced Studies Program in 2001- 2002 and completed the Master of Music in Performance program in 2004. At USC, she studied with Professors Ralph Fielding and Victoria Miskolczy, and took master classes with Professor McInnes. In the US, she has performed with the most prestigious orchestras including The Los Angeles Opera; The Los Angeles Master Chorale; The Long Beach Symphony Orchestra; The Jewish Symphony Orchestra in Los Angeles, California; The American Youth Symphony at Carnegie Hall in New York City and in Los Angeles; and The Aspen Music Festival Orchestra in Aspen, Colorado. She taught at the California State University, Northridge in 2008-2010, as well as Lincoln Middle School in Santa Monica and Children Music Workshop in Los Angeles in 2007-2013. Ms. Naziemiec become a faculty at the Price College, Los Angeles in 2019. Currently she serves as a professor at the Pepperdine University, Malibu, music coach for the Junior Chamber Music and provides private instruction in viola, violin, and piano to a wide range of students, from very young children to aspiring professionals. Additionally, she has recorded in scoring sessions at film studios such as Warner Brothers, Fox, Sony, and Paramount. Karolina Naziemiec also performs in Los Angeles as a jazz vocalist. She recorded her first CD Introduction in 2008, and in 2015, she released Songs of Hope, which was considered for Grammy nomination in 2016. She is interested in and comfortable with all types of music, from classical to jazz, folk, and hip-hop.